Wooden floors, nothing beats real wood!

We are located throughout the Netherlands
Shop the most beautiful floors
To be fair: there is nothing as authentic as a real wooden floor. At Laminaat en Parket we understand only too well that wooden floors give a feeling that is incomparable with other floor coverings. That is why we have a very large assortment with beautiful brands of wooden floors.
Our wooden floors are made from the most beautiful types of wood and will give you the original, authentic atmosphere you are looking for. You can find the best wooden floors at Laminaat en Parket. Are you wondering what they look like in real life? Visit one of our stores. You can take a look at our wide range of wooden floors at your own pace and we are happy to give you advice.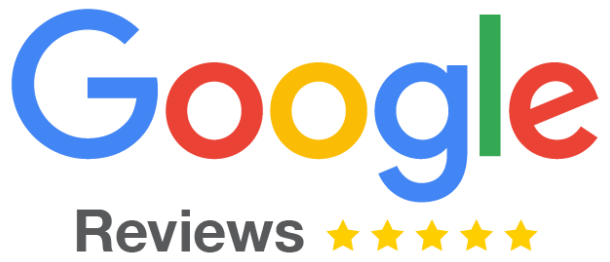 4,89

Based on 72 reviews
The largest floor shop in the Netherlands is just around the corner! This is what our customers say:
Have you seen a floor cheaper elsewhere than with us? Then we match the price and adjust the price of the product in our range!

Dave - Amsterdam

Hele goede ervaring met Laminaat en Parket. Van verkoop tot montage zijn we erg goed geholpen. Tijdens onze verbouwing last gehad van een vocht probleem. Laminaat en Parket heeft ons hierin heel goed geadviseerd en ons behoed voor het maken van verkeerde keuzes.

Rachel -Rotterdam

Had laatst 9 bedrijven gebeld, nergens was de PVC vloer die wij wilden leverbaar, pas begin oktober. Enkele dagen later werd ik teruggebeld door Robin van Laminaat en parket Den Haag en hij meldde dat zij wel konden leveren! Daar waren wij héél erg blij mee. Binnen een week keurig geleverd.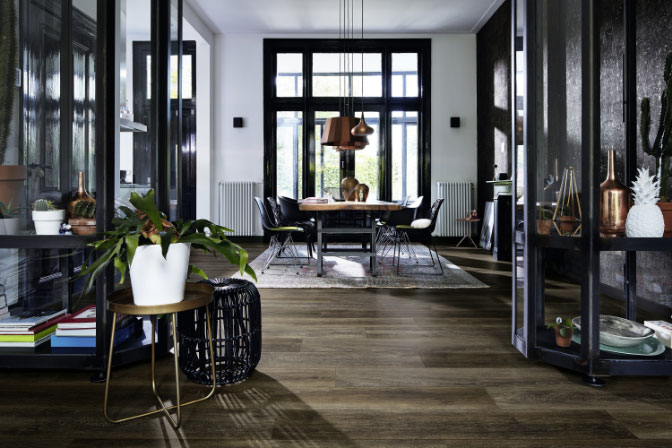 ​

Different finishes and treatments, a lot of flooring options!
Wooden floors come in various treatments and finishes to choose from. From light to very dark, anything is possible. There is a suitable wooden floor for every room. Every wooden floor is unique in its own way, thanks to the great variety and the fact that it is a natural product. This way you can enjoy wooden floors for years, found nowhere else in the world. Thanks to the great diversity in wood, Laminaat en Parket has a very wide range full of beautiful wooden floors.
Waxing, lacquering or oils?
As mentioned before, there are many different treatments for wooden floors. It is a hard choice to pick one that suits you best. To help you, we have created a list with how you should maintain your various wooden floors. In addition, we have also stated how advantageous the various operations are. This way you can see at a single glance the difference between the many variants of wooden floors. If the overview below is not clear, you can always contact us for additional information.
Lowest prices!

We're checking the competitors.
Waxed wooden floors
Maintenance: Mop once a month. In addition, clean thoroughly once every 4 years and apply a new wax layer.
Stain resistance: the stain resistance of this floor is 4 to 8 hours.
Lacquered wooden floors
Maintenance: Mop once a month. In addition, sand or polish the floor once every 10 to 15 years. After sanding or polishing apply a new coat of paint.
Stain resistance: Stains are no problem on lacquered wooden floors. Coffee or wine stains can be left to dry. The next day you can dab the floor with a dry or damp cloth and the stains are easily removed.
Laying wooden floors glued or floating
If you choose one of our wooden floors, you must also decide whether you want the floor glued or laid to float. Bonding is mainly recommended if you are going to place the wooden floors on a concrete floor with underfloor heating. Don't worry, this is quite easy. The wooden floor is directly glued with a PU flooring glue, which always stays flexible. The heat resistance of this is zero. The only condition is that the basis of the wood must first be considered.
Solid parquet, laminated parquet or multi-plank parquet
Wood floors, or parquet floors, can be found in various types. The three categories that are mainly sold are: parquet flooring, multi-plank and solid wood floors. Before you make a choice, it is important to know the difference between these different types of wooden floors. For that reason, we briefly discuss each species listed below.

Oiled wooden floors
Maintenance: Mop once a month. In addition, lubricate maintenance oil on the wooden floors once every 9 months.
Stain resistance: this floor is stain resistant up to 20 minutes. Oiled wood floors can always be put in a wax. That layer then serves as an additional finishing layer.
Advantage of oil and wax
So why would you choose and oiled or waxed floor? It is good to know that these types do have an advantage. Oiled or waxed wooden floors can be repaired locally. No need to worry if the floor has any scratches. With a varnished wooden floor, the scratches will always have to be sanded lightly. That must be done for every shelf, before applying a whole new layer of paint. Laminaat en Parket has all kinds of suitable products for waxing and varnishing your wooden floor. Take a look at our maintenance products for wooden floors here.
The type of subfloor
Depending on the subfloor, wooden floors can be glued or laid floating. With an old wooden building floor as a subfloor, you will first have to level the floor by using a chipboard. Only then can the wooden floors be glued on top. Do you prefer a floating wooden floor?
You will need to lay a good subfloor first. Do you have a concrete floor as an underlay? Then the wooden floor can be laid both glued and floating. It might be a better idea to glue the floor, because the floor can then be finished tightly.


20.000 m 2
showroom

Large stock, Take immediately


Free parking From €250,-
Free shipping

Only high quality brands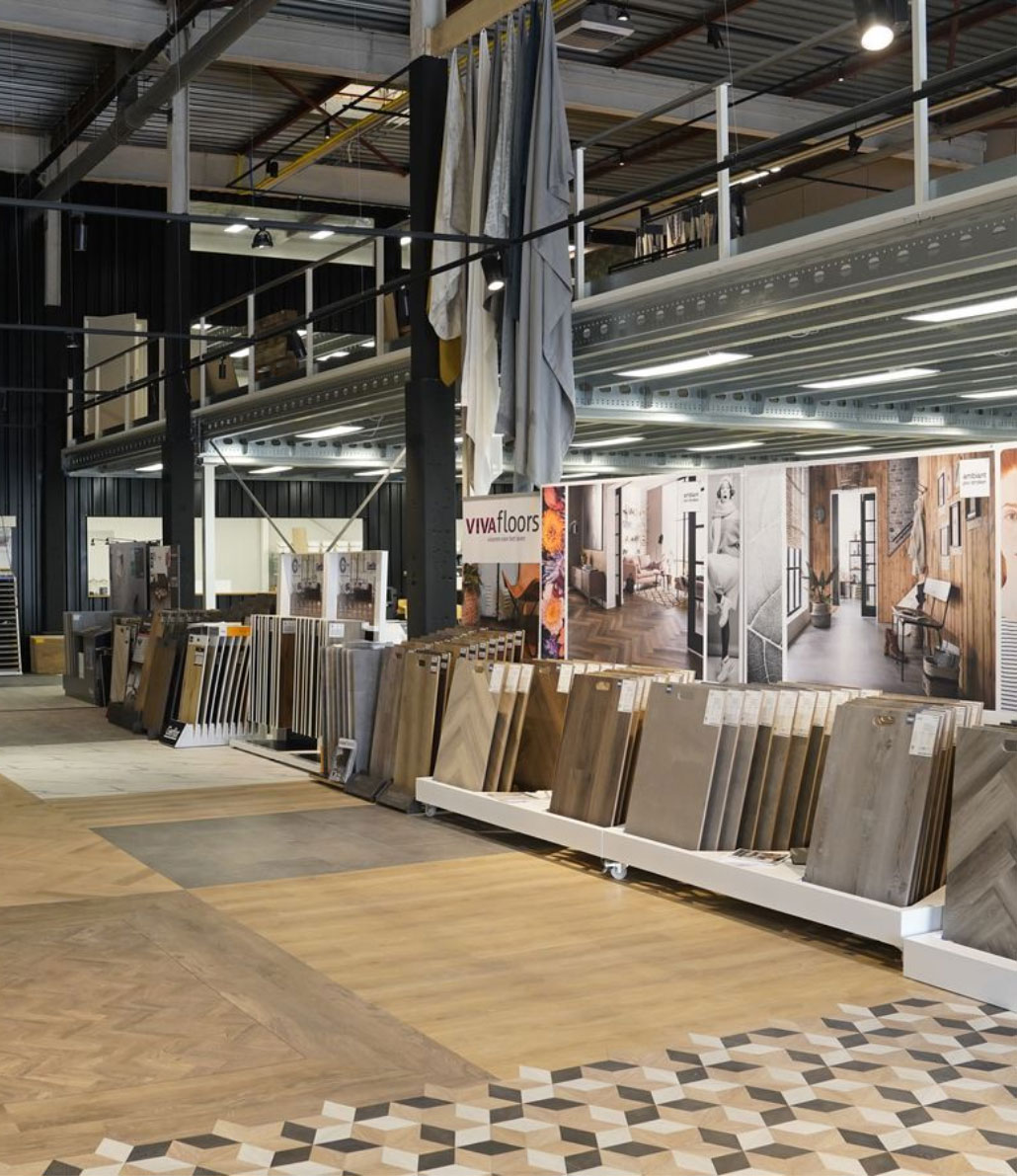 Solid parquet
A solid wooden floor or solid parquet floor is exactly that: solid. Solid wooden floors consist entirely of solid wood, while parquet flooring and multi-plank are made of layers of different materials. Solid wood floors are naturally beautiful and have a very luxurious feel.
The main disadvantage of a wooden floor is that they respond to temperature and humidity, because they are only made of wood. This can cause the material to expand or shrink. There is also a good chance that cracks and bends will appear in wooden floors over time.


Origin of parquet flooring
Parquet floors are wooden floors that mainly come from China. The wood almost always comes from the east of Russia. This means that the coloring of the wood can be different, which has to do with the coloring process. The winters in Russia are longer and more severe.
The summers, on the other hand, are shorter and more intense. As a result, the trees have a growth spurt in the summer. Because of this rapid intensive growth, a different color of the wood is created than in other seasons. As a result, the board contains more tannin and more tannic acids, making it difficult to have an even coloring on the board.

Parquet flooring
Parquet flooring is made up of different layers. The bottom layer of the parquet flooring is made of pine. On top of this, sideways spruce wooden slats are placed with an oak top layer.

Different treatments of parquet flooring
Parquet flooring is actually always an oiled product, because oil is much cheaper in China than in the Netherlands. The oil is regularly of poorer quality. Parquet wooden floors are therefore almost always oiled when they are delivered.
Underfloor heating and water-resistant parquet flooring
There is air between the spruce wooden slats under the oak top layer. This gives the wood a higher heat resistance, but it also means that it cannot be used on underfloor heating. Slat flooring sometimes wants to run or bulge, because the oak wood is stronger than the spruce wood. Parquet flooring has poor water resistance due to the fir wood. This is because spruce wood is a more porous type of wood and absorbs the water. This wooden floor is therefore not suitable for spaces such as bathrooms and kitchens. View our slat floors for more information.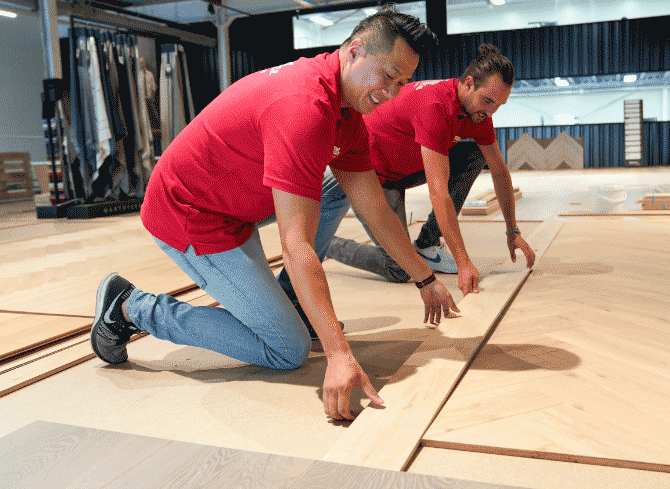 Multi-plank parquet
T he bottom of the multiplank is made up of a birch plywood that is glued crosswise several times over each other. Due to this strong construction, there is not enough power for the wood to bulge or run. This makes the wood completely form-retaining.
Multi-plank editing options
There is an oak top layer over the underside. Multi-plank boards always arrive untreated and therefore still have to be processed. At Laminaat en Parket, we often treat multi-plank floors ourselves with good oil, wax or varnish. Laminaat en Parket has a wide collection of pre-treated boards. You can come and view this without obligation in one of our showrooms.
Underfloor heating and watertightness of multiplank
Birch plywood has been glued together several times. This means there is no air in between and the heat resistance is lower, making birch plywood suitable for underfloor heating. Moreover, this floor will also remain flat, unlike slat parquet, which sometimes tends to expand. With underfloor heating, full bonding to the basic floor is an advantage, which makes multiplank suitable. In addition, birch plywood is also waterproof and therefore very resistant to water.
The difference between parquet flooring and multi-plank
The difference between parquet flooring and multi-plank is the ratio between sapwood and heartwood. Spider mite is the younger part of a tree, which does not color because it contains a lot of moisture. In addition, sap has a different hardness than an oak wooden core. This means that the hardness of sapwood can be roughly compared to the hardness of pine. The moment that (needle) heels or chair legs press on the wood, there will most likely be dents in the wood.
Sapwood is mainly found in parquet flooring. Multi-plank, on the other hand, consists of 95% heartwood and contains a maximum of 5% sapwood. The sapwood can almost always be cut away on the sides and the end side, leaving beautiful wooden floors. Have we sparked your attention? View our multi-plank wood floors here or visit us in one of our showrooms.

Questions or suggestions? Send us a message!